This email is sent to guests who have dined with us at HIGASHI-YAMA Tokyo and our affiliated restaurants, and also those who have registered from our website.
We hope you are all well and surviving the blistering heat now that we are in the hottest season of the year.
With a growing regard for the environment, many people are reexamining the conventional wisdom of our ancestors who took cues from nature to cope with the summer heat. Time-honored creative techniques, such as hanging bamboo blinds to block the harsh sunlight but allow the passing of a cool breeze, sprinkling water on pavement to reduce the ground temperature, and using wind chimes whose sounds invoke a refreshing cool sensation – these are all still symbols of the summer season in Japan today. There really is so much to be learned from the rich sensibility of our ancestors, who were brought up alongside nature.
In Japanese cuisine, too, seasons and scenes of nature are expressed not only through the ingredients, but also in the serving dishes and plating presentation. The seasons are to be savored and enjoyed by all five senses.
We invite you to come and relax in the cooling atmosphere at HIGASHI-YAMA Tokyo, where the ivy is thick with leaves that sway in the breeze. We have prepared a number of summer dishes using seasonal ingredients from around Japan.
We are looking forward to your visit.
Chef Kazuki Watanabe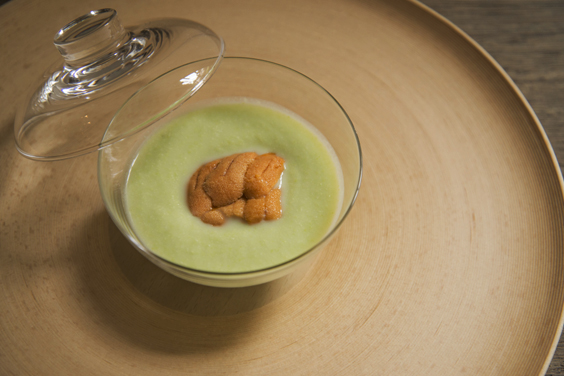 Long a staple in the Japanese diet, edamame contain the nutritional benefits of both legumes and vegetables, making them highly effective in beating the summer heat. Freshly-picked edamame are crushed and then puréed in to a silky smooth cool soup, which we serve with fresh sea urchin. We invite you to enjoy the deep flavors of this soup which highlight the rich sweetness of the sea urchin and the nourishing goodness of edamame.
Cold puréed edamame soup with sea urchin ¥1,300
Served from July 30th to August 8th.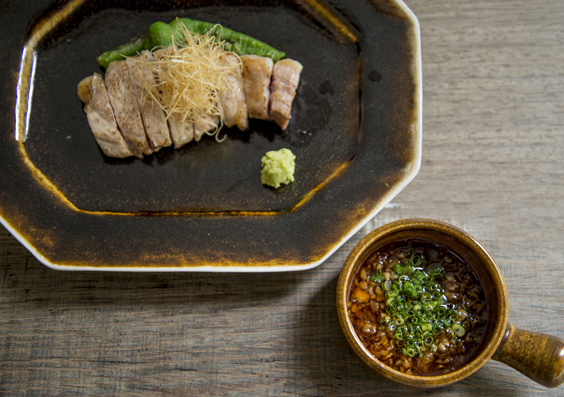 Akane pork, raised on carefully selected feed in the foothills of Unzen in Nagasaki Prefecture, is known for its high oleic acid content and its light, delicate, and sweet-tasting fat. Our charcoal-grilled pork loin is served with wasabi and a refreshing ponzu sauce containing grated daikon, and green onions, allowing you to enjoy the full flavor of the meat.
Chargrilled Akane pork with ponzu sauce ¥2,300
Served from August 20th to August 30th.
Reservations and inquiries:TEL 03-5720-1300
Gasanryu Usunigori is a ginjo-shu brewed in the summertime by Shindo Brewery in Yonezawa City, Yamagata Prefecture. Ever so slightly cloudy, it has an elegant flavor and a lovely freshly-pressed floral aroma. Made from the sake rice variety Dewasansan, first developed in Yamagata, the brewery pays utmost attention to quality, using only rice grown in its own fields. We think you will really enjoy the crisp, refined flavor of this light, easy-drinking sake.

Glass ¥600
180ml ¥1,000
Served from August 1st to August 30th.
HIGASHI-YAMA Tokyo original mojito with celery and slightly sparkling junmai sake. The mojito's refreshing aroma and light hint of bitterness is perfect for summer.

Celery mojito ¥1,300