Understanding local food is the key to unraveling the mysteries of local culture and the landscape that helped shape it.
FOOD NIPPON is our series of seasonal events focused on "rediscovering Japanese food culture." Since 2013, we have been gathering stories from around Japan that tell of the richness of this country, delving into foods and customs, and learning from our ancestors' wisdom and ingenious adaptations, which have been passed down through generations.
In this eighth edition of FOOD NIPPON, we delve into the food culture of Donan, or Southern Hokkaido, as shared with us by local growers, makers and craftsmen. We will be introducing selected food ingredients, sake and tableware, specifically chosen for their ability to convey the richness and appeal of the region.
In Makkarimura, situated in the foothills of Yoteizan, we came across vegetable growers who really make the most of this region's unique natural environment with its plentiful spring water, rich volcanic soil offering excellent drainage, and extremely heavy snowfalls. Here, local wisdom has created a method whereby vegetables are stored beneath the deep snow to maximize their sweetness.
With its exotic streetscape, Hakodate was the backdrop for several fascinating encounters. The Tachikawa Family House, built more than 100 years ago, was fashioned on a warehouse with thick mortar walls. Today it is home to the TACHIKAWA CAFÉ, where Chef Murai offers wild game cuisine, serving dishes of duck and Ezoshika Hokkaido venison that he has hunted himself. Deer-hunting with Chef Murai was an incredible opportunity to reflect again on the importance of coexisting with nature.
We also met with some incredibly enterprising artists in Hakodate. We will be showcasing some truly unique pieces of tableware they have created incorporating ideas from various cultures.
There is so much to offer this winter, from the deliciously sweet vegetables of Makkarimura to deer hunted in the Komagatake region, and the plentiful catches of shellfish from Funka Bay brought in to port at Morimachi.
We invite you to come and enjoy the rich food culture offered by the wise people who call this incredible region home.
We are looking forward to your visit.
Event Schedule
< Spring > Takamatsu, Kagawa 3rd ~ 15th March [finished]
< Summer > Shodoshima Island etc., Kagawa 2nd ~ 14th June [finished]
< Autumn > Dohoku, Hokkaido 1st ~ 13th September [finished]
< Winter > Donan, Hokkaido 1st ~ 13th December
Lunch course ¥4,000 / Dinner course ¥8,200
(Inc. TAX, Exc. drinks)
* Our regular menu is also available.
* As part of our dinner course, some items will also be available a la carte.
* Selected pieces of tableware for purchase will be on exhibit in the salon space during the event.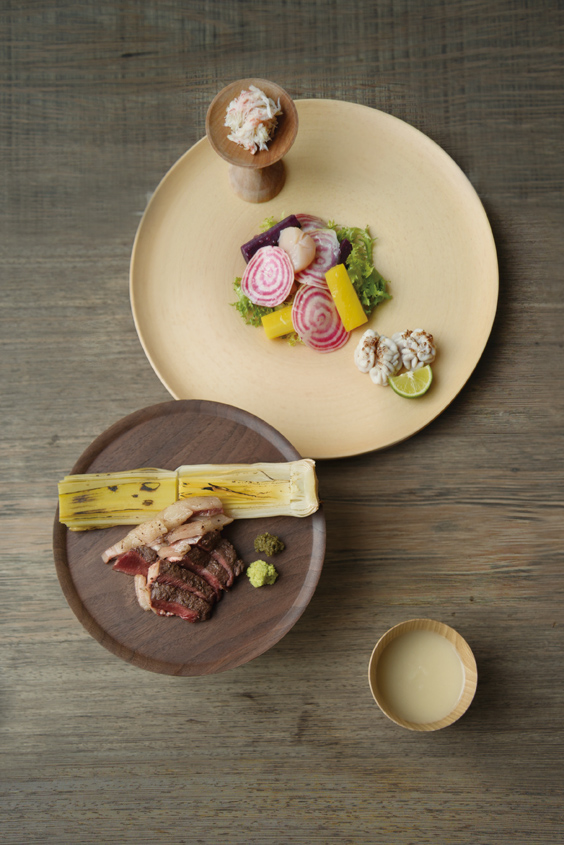 Taste palette of Hokkaido/Puréed celeriac soup/Chicken and savoy cabbage roll/Soup with Pacific cod and vegetables/Chargrilled Ezoshika venison /Steamed rice topped with salmon roe/Lily bulb ice cream
FOOD NIPPON 2014 Winter Special Dinner Course
¥8,200 (per person)
Served from 1st to 13th December.
Reservations and inquiries:TEL 03-5720-1300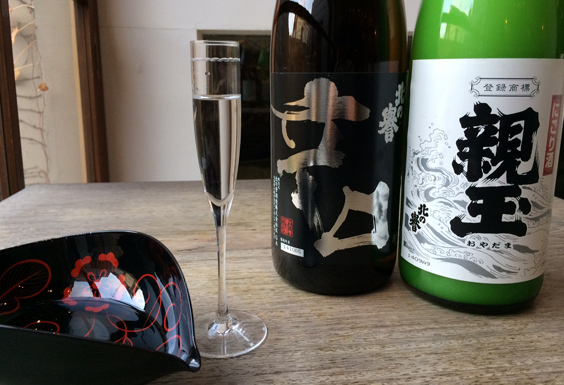 Hokkaido, with its rich natural environment, affords the perfect conditions for sake-brewing.
Crisp, clear air and a dry climate, as well as strong wintertime cold fronts and snowfalls – all these factors are instrumental in producing superb flavors in sake, which is prepared in the thick of winter. Otaru Tenguzan is the source for the waters of Katsunaigawa basin, so high in quality that sailors who travelled all around Japan used to say "for the best water, go to Otaru in the east." Kitanohomare Brewery was found here in 1901. Using traditional brewers' techniques and cool and clear thawed snow spring water, the brewers work tirelessly to create light and refreshing sake, in which "every drop is infused with the blessings of nature."
Throughout the FOOD NIPPON Winter edition, we will have nine carefully selected brands of sake, wine and whiskey from five different breweries to share with you. Come and relish delicious Hokkaido cuisine with these wonderful pairings.
Glass ¥600〜
180ml¥1,000〜
Served from 1st to 13th December.