This email is sent to guests who have dined with us at HIGASHI-YAMA Tokyo and our affiliated restaurants and to those who have registered from our website.
As the heat continues to intensify, we hope you are doing well.
In the lunar calendar, August is referred to as "Hazuki." Of the many theories concerning the origin of this name, one suggests it comes from the stage when the ears of rice plants begin to swell. Once August hits and the ears begin to appear, small white flowers start blooming one-by-one around each ear. Under the scorching sun, the rice fields are suddenly full bloom with delicate flowers, saluting the approach of a lush season. The flowers only bloom, however, for a few hours in the morning. Once they wilt, the rice plants begin to swell and get closer to being harvested. We hope that this year brings us yet another successful harvest.
At HIGASHI-YAMA Tokyo, we will be serving various dishes using the freshest ingredients of the season.
We are looking forward to your visit.
Chef Kazuki Watanabe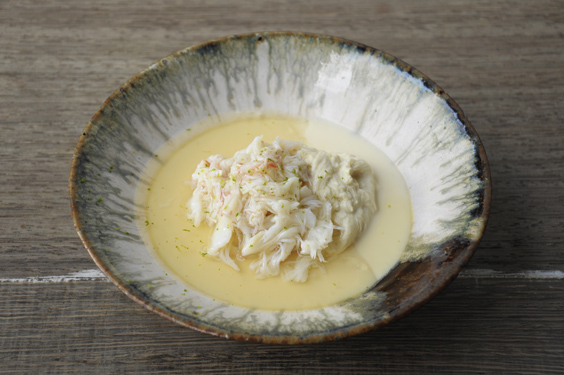 This cold steamed egg custard has been topped with a generous amount of sweet and rich-tasting kegani horsehair crab. Sprinkled with yuzu citrus, its smooth texture is incredibly refreshing.
Cold steamed egg custard with horsehair crab and yuba ¥1,300
Served from August 1st to 8th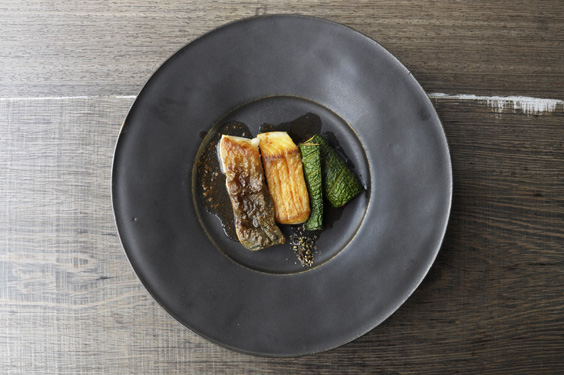 Butterfish, the premium fish of the season, has been fragrantly sautéed with butter and soy sauce. Its white flesh, which features just the right amount of fat, has been cooked to a gentle, sophisticated, and truly delicious finish.
Sautéed butterfish with butter and soy sauce ¥2,500
Served from August 17th to 29th
Reservations and inquiries: Tel 03-5720-1300