Understanding local food is the key to unraveling the mysteries of local culture and the landscape that helped shape it.
FOOD NIPPON is our series of seasonal events focused on "rediscovering Japanese food culture." Since 2013, we have been gathering stories from around Japan that tell of the richness of this country, delving into various foods and customs by learning from our ancestors' wisdom and ingenious adaptations that have been passed down through generations.
For the third year of FOOD NIPPON, we have been featuring Oita Prefecture. In order to share with you the wonderful charm of Oita, we have been introducing our very own reinterpretations of the food of Oita for each of the four seasons this year.
For the last chapter of the year, "Winter," we continue to seek delicious food of Oita through the framework of Bimi-kyushin.
Bimi-kyushin is a book that journeys deep into food culture from all ages and countries, including descriptions of the most gourmet delicacies to the most bizarre foods. The book was written by Kenjiro Kinoshita, an Oita-born politician during the Meiji and early Showa eras who was especially known for being an exceptional gourmand.
This book, which was largely read as the ultimate book of food culture, describes the suppon (soft-shelled turtle) from Ajimu and fugu (blowfish) from Bungo as the last delicious foods a gourmand finds at the end of his or her journey.
Since Oita boasts the largest production of madake (Japanese timber bamboo) in the country, we visited several bamboo craft ateliers and local Onta-yaki potters who have been passing down secret techniques and traditions from one generation to the next since the early 1700s, when pottery was founded in the villages of Oita. Working closely with and learning from local craftsmen of the area, we have prepared FOOD NIPPON original tableware to be used throughout the event as a way to accentuate the cuisine.
We chose to feature Oita so that we could pass on the charm and rich culture that we encountered during our visits with various local farmers and craftsmen. We hope you will come to enjoy the food of Oita.
We are looking forward to your visit.
Event Schedule
Throughout the FOOD NIPPON 2015 edition, we will be offering special lunch and dinner menus that feature various ingredients and types of sake from Oita, which you can enjoy together with tableware that has been made originally for FOOD NIPPON.
< Spring > March 16th ~ 28th[finished]
< Summer > June 1st ~ 13th[finished]
< Autumn > August 31st ~ September 12th[finished]
< Winter > November 30th ~ December 12th
Lunch course ¥3,500 / Dinner course ¥8,200
(Incl. tax; Excl. drinks)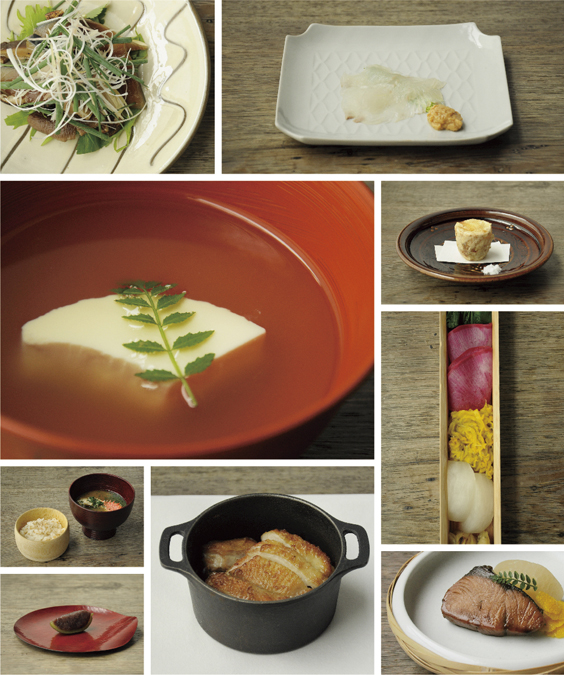 Seki Saba mackerel, shiitake, and long green onion salad / Suppon soup / Fugu sashimi with monkfish liver ponzu / Sweet potato tempura with salt from Tsurumi / Yellowtail and daikon radish cooked in soy sauce with yuzu citrus / Assorted vegetables boiled in broth / Chargrilled Kanmuri chicken steamed with Japanese cedar leaves / Steamed rice mixed with tiny shrimp and Gazami crab miso soup / Kabosu citrus Japanese confectionery
FOOD NIPPON 2015 Winter Special Dinner Course 
¥8,200 (per person)
Served from November 30th to December 12th
* Our regular menu is also available.
* As part of our dinner course, some items will also be available a la carte.
Reservations and inquiries:Tel 03-5720-1300
Click to view other menus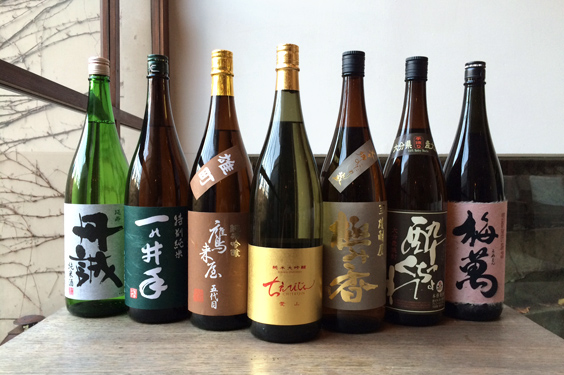 We will serve sake and shochu from selected breweries including four carefully chosen brands of sake from Nakano Shuzo's "Chiebijin Junmai Daiginjo," two brands of mugi shochu, and "Umeman" plum wine. We hope you will enjoy these special drinks alongside our Oita dishes.
Glass ¥600〜
180ml ¥1,000〜
Served from November 30th to December 12th