Understanding local food is the key to unraveling the mysteries of local culture and the landscape that helped shape it.
FOOD NIPPON is our series of seasonal events focused on "rediscovering Japanese food culture." Since 2013, we have been gathering stories from around Japan that tell of the richness of this country, delving into various foods and customs by learning from our ancestors' wisdom and ingenious adaptations that have been passed down through generations.
In our fifth year, we are focusing on Hokuriku, the gateway for ancient continental Asian culture in Japan. We presented the various food cultures of Toyama, Ishikawa and Fukui prefectures in March, June, and September, respectively. In our winter edition starting November 20th, we share carefully selected ingredients and brewed beverages, as well as tableware created by the potters and artisans we met throughout our travels, revisiting all three prefectures of the Hokuriku region.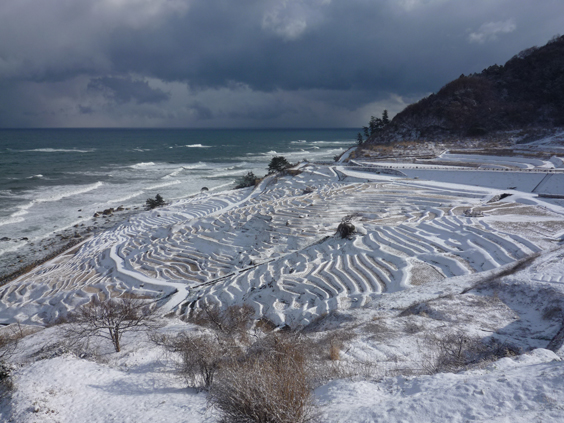 On a steep hillside facing the Japan Sea in Oku-Noto, Ishikawa Prefecture, rice is grown according to an ancient Japanese method in which rice seeds are sown and allowed to germinate into seedlings. Here, exactly 1,004 fields form a tapestry of terraced rice paddies known as "Shiroyone Senmaida." On December 5th each year, the farmers of Oku-Noto give thanks for the year's harvest in an agricultural ritual called "Aenokoto," during which the gods of the rice fields are invited into homes for a bath and to be treated to warm Noto hospitality, partaking in the blessings from the mountains and sea. After weathering the cold of winter indoors, the gods are returned to the rice fields on February 9th, with a prayer for an abundant harvest in the coming year. Carried on by the farmers of Oku-Noto for countless generations, this tradition symbolizes the spirit of the Hokuriku people who show great respect for the nature that surrounds them as they accept its blessings.
Home to some of the heaviest snowfalls in Japan, Hokuriku's plains are replenished by plentiful groundwater with the thaw each spring. This is followed by Pacific high-pressure systems in summer, bringing high temperatures and creating the perfect conditions for rice-growing. Delicious Hokuriku rice has caught the attention of the market, and this year saw the introduction of many new rice varietal brands including Ichihomare (Fukui), Hyakumangoku (Ishikawa) and Fufufu (Toyama). Rice, kombu brought to Hokuriku from Hokkaido by kitamae-bune cargo ships on the Japan Sea, and fermented foods borne from traditional wisdom and techniques for preserving the bountiful ocean catches – these key components of the local food culture, driven by the local climate and topography, all form fundamental aspects of washoku traditional Japanese cuisine.
Hokuriku's lacquerware culture has an unimaginably long history. Many pieces of Jomon Period (14,000–300 BCE) lacquerware have been excavated at Fukui's Torihama Shell Mound and Ishikawa's Mibiki historic ruins. In recent years, archeologists discovered a lacquer tree branch at the Torihama site that is 12,600 years old, prompting new debate about the origins of lacquerware culture.
Lacquerware production continues to flourish in the three prefectures of Hokuriku – Wajima-nuri from Ishikawa, Wakasa-nuri and Echizen Shikki from Fukui, and Takaoka Shikki from Toyama – making the best of the year-round humidity in the region. For the religious people of Hokuriku who faithfully uphold the traditions of special meals held on commemorative occasions, lacquer tableware is an integral component.
In addition to lacquerware, we share selected works from artists around the Hokuriku region, such as Inami Chokoku, known for its intricate woodcarving of transom panels in traditional Japanese buildings; the traditional craft of Echizen Washi Japanese paper-making with a history of more 1,500 years using the pure spring water of the Echizen region of Fukui; as well as tableware created from fossilized phytoplankton called diatomaceous earth, enormous deposits of which can be found in Ishikawa's Noto Peninsula.
We invite you to come and enjoy the rich food culture of Hokuriku.
We are looking forward to your visit.
Event Schedule
Throughout the FOOD NIPPON 2017 edition, we will be offering special lunch and dinner menus that feature various ingredients and sake varieties from the Hokuriku region, which you can enjoy together with original tableware made especially for FOOD NIPPON.
< Spring > March 6th ~ 18th [finished]
< Summer > June 5th ~ 17th [finished]
< Autumn > September 4th ~ 16th [finished]
< Winter > November 20th ~ December 2nd
Special Lunch course ¥3,500 / Special Dinner course ¥8,200 (Inc. TAX)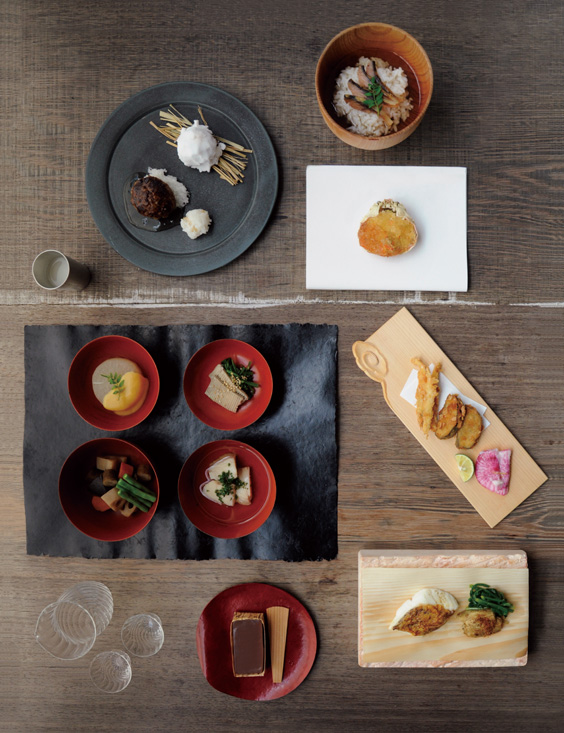 Amazake sweet sake /
Taste palette of Hokuriku (Simmered Kaga vegetables・Cod in clear soup・Simmered Gensuke daikon with white miso sauce・Chojifu wheat gluten and Java water dropwort in shio-koji) /
Rolled kombu fishcake and white shrimp fried in wheat gluten /
Kobakogani female snow crab with tosazu vinegar jelly /
Grilled sea bream with salt-fermented sea cucumber entrails / Himigyu beef hamburg steak /
Ochazuke with pickled mackerel / Homemade mizu-yokan
Special Dinner Course ¥8,200 (Inc. TAX)
Served from November 20th to December 2nd
* As part of our dinner course, some items will also be available a la carte.
* Please note that ingredients may change according to availability.
Reservations and inquiries:Tel 03-5720-1300
Click to view other menus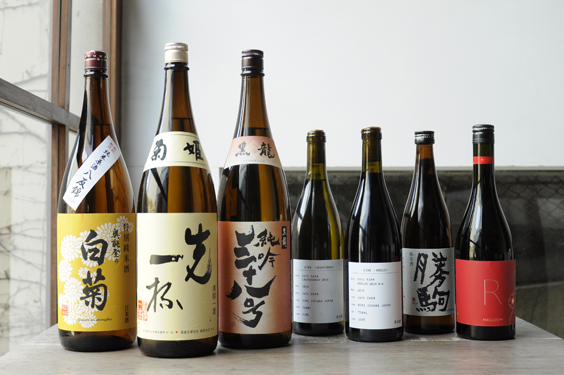 The spring thaw carries fresh water from the sacred Hakusan mountains into the four rivers of Tedorigawa (Ishikawa), Kuzuryugawa (Fukui), Shogawa (Toyama) and Nagaragawa (Gifu), replenishing the great plains of the Hokuriku region. The underground water is also ideal for sake-brewing, giving rise to many famous sake brands. Long ago, sake from this region was called "Kaga no Kikuzake." Made with Tedorigawa groundwater and extolled as the best sake around, it was the sake of choice at Shogun Toyotomi Hideyoshi's flower-viewing parties. From the late Edo Period onwards in the wintertime when farming wasn't possible, members of the guild of master brewers from the Noto region of Ishikawa travelled the length of country, sharing their unparalleled skills and driving sake-brewing in Japan.
From the three prefectures of the Hokuriku region, blessed with plentiful pure water from the Hakusan mountains and Tateyama Alps and a rich fermented food culture, we have gathered famous sake brands that exemplify the unique skills of the master brewers and their Noto-style of sake.
We invite you to try these perfect pairings for the Special Dinner Course.
180ml ¥1,300
Served from November 20th to December 2nd