Understanding local food is the key to unraveling the mysteries of local culture and the landscape that helped shape it.
FOOD NIPPON is our series of seasonal events focused on "rediscovering Japanese food culture." Since 2013, we have been gathering stories from around Japan that tell of the richness of this country, delving into various foods and customs, and learning from our ancestors' wisdom and ingenious adaptations that have been passed down through generations.
To celebrate HIGASHI-YAMA Tokyo's 20th anniversary, we are journeying back to our roots, sharing our unique reinterpretations of Tokyo food culture in two parts. For the first part to be held from May 21st to June 16th, our theme is "Oedo," a poetic version of "Edo," the former name for Tokyo.
Starting with the shogunate established by Tokugawa Ieyasu in 1603, fifteen generations of shogun presided over Japan for 265 years of stability known as the Edo Period. With the spiral configuration of moats emerging from Edo Castle serving as both transport canals and an important defense mechanism, the castle town grew rapidly with samurai residences in the hilly Yamanote areas to the west and commoner towns known as Shitamachi to the east.
"Oedo" gained currency as a refined expression for the city of Edo as it flourished in the late 18th century, growing into a great consumer hub with a population of more than one million people. Influenced by Kyoto cuisine as well as the food cultures introduced by people who settled in Edo from all over Japan, a uniquely Edo-style of cuisine emerged. The rich reserves of seafood from the abundant sea surrounding Edo, the presence of an enormous fish market called Nihonbashi Uogashi, and the spread of ingredients such as Kanto-style dark soy sauce, mirin and bonito dashi are all thought to have contributed to this new food culture.
Four types of Edo Period cuisine solidified the culture of dining out: sushi, unagi broiled eel, tempura and soba. At the time, all four flourished as quick and easy meals available at street stalls, but before long restaurants with tatami floor seating (zashiki) began to appear and the most popular were those that showcased the stylish, relaxed feel of Edo.
One restaurant frequented by the shogun's family and other important persons, writers and artists was Yaozen, located in present-day Asakusa. Acclaimed as the best in Edo, it was Yaozen that paid the record price at auction for hatsu-gatsuo – the first bonito catch of the season, loved by Edoites as a talisman for longer life and a way to show one's status. A forerunner to fine dining ryotei, the restaurant played an important role in the formulation of Edo's food culture serving honzen ryori (high-end Japanese cuisine served on a low table), fucha ryori (Chinese-style vegetarian cuisine), shippoku ryori (fusion Japanese-Chinese cuisine served family style) and kaiseki ryori (Japanese haute cuisine originating in tea ceremony). Yaozen banquets included an enormous array of dishes and at the conclusion of a meal guests were presented with preserved foods called tsukudani and yokan bars of bean paste jelly served on the lids of inkstone cases. The guests are said to have packed these foods into boxes to take home.
| | |
| --- | --- |
| | |
From the early Edo Period, the shogunate invested a great deal in the arts, summoning distinguished artisans from Kyoto to train individuals and ensure the succession of skills and techniques. Over time, an entire realm of Edo arts emerged including ukiyo-e paintings and woodblock prints, Edo Kiriko cut glassware, Edo Sashimono wood joinery, Edo Komon fine-patterned textile dyeing, and Imado ware porcelain, credited as the original creator of the maneki-neko cat beckoning customers and profits with its raised paw. The skills of these proud, sophisticated and spirited Edo artisans are carried on today in woodwork, metalwork, glass craft, textiles, dyeing and weaving.
Retracing the footsteps of life in Oedo, still evident throughout the Tokyo metropolis today, we present to you carefully selected ingredients, sake and crafts of Edo. We invite you to come and enjoy our reinterpretations of the rich food culture of Tokyo. We are looking forward to your visit.
Event Schedule
Throughout FOOD NIPPON 2018, we will be offering special lunch and dinner menus that showcase "Tokyo."
< Part 1 > May 21st ~ June 16th
< Part 2 > November 5th ~ December 1st
Special Lunch Course ¥3,500 / Special Dinner Course ¥8,200 (inc. TAX)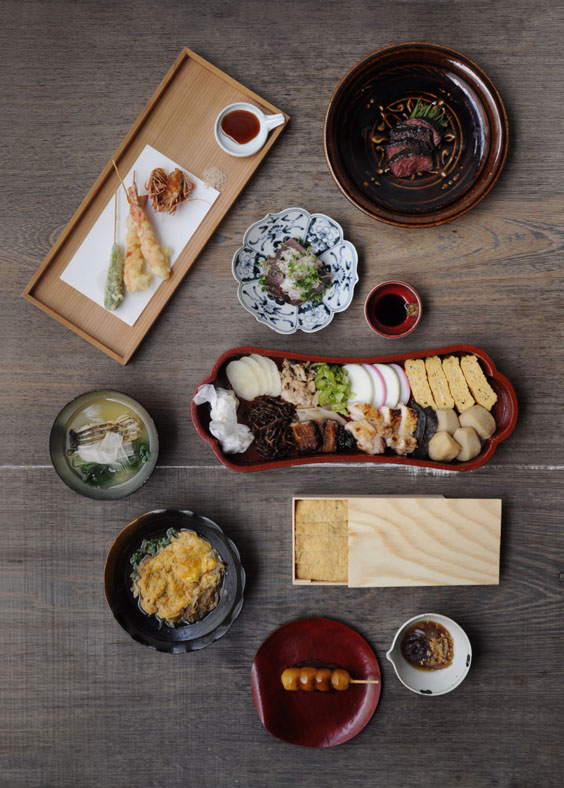 Seared "first-catch" bonito / Japanese sea bass and Edo vegetables in dashi soup / Skewered tempura / Sweet-simmered Edomae anago conger eel and gobo topped with egg / Miso-marinated and grilled Omi beef / Taste palette of Oedo (charbroiled Tokyo Shamo chicken・boiled and semi-dried bonito・simmered taro・tsukudani・rolled omelet・okoshi roasted rice cake) / Inari-zushi seasoned deep-fried tofu stuffed with vinegared rice / Dessert
Special Dinner Course ¥8,200 (Inc. TAX)
Served from May 21st to June 16th
* As part of our dinner course, some items will also be available a la carte.
* Please note that ingredients may change according to availability.
Reservations and inquiries:Tel 03-5720-1300
Click to view other menus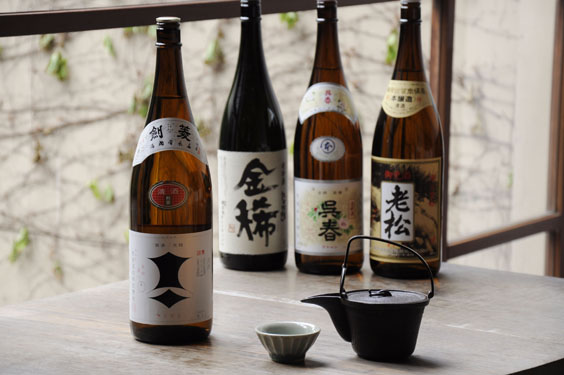 Sake transported from Itami, Nada and regions surrounding Kyoto were categorized as kudari-zake and highly acclaimed in Edo. Rocked by the sea as it made its way in barrels on sea routes, the sake benefited from the addition of oxygen, absorbing barrel aromas and resulting in premium sake with smooth, mellow flavors. From Kenbishi, which gained fame after being selected for service at the 8th shogun Tokugawa Yoshimune's banquets, to Oimatsu and Sakuramasamune, we have collected various famous brands of sake loved since the days of Edo.
180ml ¥1800
Served from May 21st to June 16th