Understanding local food is the key to unraveling the mysteries of local culture and the landscape that helped shape it.
FOOD NIPPON is our series of seasonal events focused on "rediscovering Japanese food culture." Since 2013, we have been gathering stories from around Japan that tell of the richness of this country, delving into various foods and customs, and learning from our ancestors' wisdom and ingenious adaptations that have been passed down through generations.
As this year marks Tokyo's 150th anniversary, we are sharing our unique reinterpretations of cuisine in the big city in two parts. Following on from the first part on the theme of "Oedo," starting November 6th we commence the second part unravelling Tokyo's food culture from the Meiji Period onwards.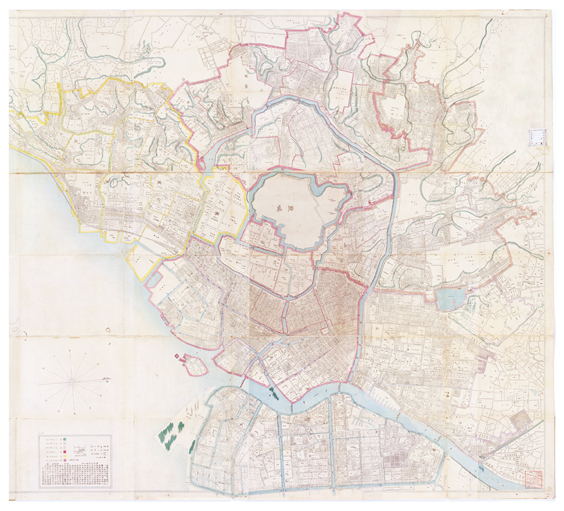 Map of Meiji Tokyo Held by National Archives of Japan
1868 was a tumultuous year. In April of this first year of the Meiji Period, Edo Castle was peacefully surrendered, and in July the city was renamed from Edo to Tokyo. In November, in celebration of the Meiji Emperor's arrival in Tokyo from Kyoto, the newly instituted Meiji Government distributed 2,563 barrels of sake to the 1,592 towns that made up the big city. The delighted people of Tokyo stopped work and celebrated in the streets preparing floats and carrying them around in a festival mood referred to as Goshu Chodai. They were able to experience the peaceful side of the handover of power amid the confusion that ensued with the Meiji Restoration.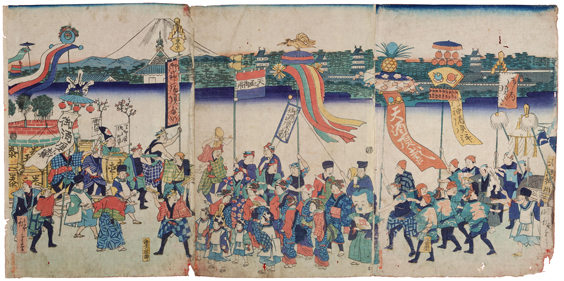 Goshu Chodai by third generation Hiroshige Utagawa. Held by Tokyo Metropolitan Central Library
It was the Meiji Period when modernization and Westernization was promoted, and proactive uptake of European culture including Western cuisine continued apace. Most notable was the repeal of the 1000-year-old ban on eating meat. While many had partaken in wild boar meat for medicinal purposes, hardly anyone had ever eaten beef and most had a strong aversion to it. To make it more approachable, the traditional wild boar hot pot was used as a base to create a miso-flavored beef hot pot. This dish, which later evolved into sukiyaki, gained great popularity and was hailed as the flavor of the West, with many restaurants serving it popping up around Asakusa in Tokyo's downtown district. Set in a beef hot pot restaurant, Aguranabe (The Beefeater) by Robun Kanagaki captures the customs of the time. Later fried cutlet, curry, rice-filled omelets, croquettes and many other dishes emerged that remain immensely popular today. But the fact is that only the wealthy and well-connected were able to eat these foods.

(left)Illustration from Aguranabe (The Beefeater) by Robun Kanagaki /(right)Tokyo no Kofuku (Tokyo's Appetite) Held by Tokyo Metropolitan Central Library
Reconstruction after the 1923 Great Kanto Earthquake saw rapid modernization and popularization of yoshoku Western cuisine, a far cry from the authentic style. Young Tokyoites dressed in Western clothes called mobo/moga (short for modern boys and modern girls) strutted the streets of Ginza, and new diners and cafés serving simple, affordable yoshoku were constantly coming onto the scene. Using familiar, traditional cooking methods, but incorporating foreign dishes and ingredients, and constantly tweaking recipes to pair them with Japan's staple food of rice, this entirely new food culture was born, spreading to all corners of the population.

(left)"Ginza Odori – the city's premier shopping street" Held by Tokyo Metropolitan Central Library
Tokyo was nothing but scorched earth after the Great Tokyo Air Raid of World War II, leaving the city to face grave food shortages. Starting in Shinjuku, black markets sprung up around the city after the war and people bought and sold whatever they could to survive. City planning in the reconstruction period saw the black markets undergo regulation, but in some areas pub streets that developed around the markets still exist today, rich in the memories of those who lived through those years of destitution.
Meiji Restoration, Great Kanto Earthquake, Great Tokyo Air Raid, and redevelopment. Amid the confusion of countless iterations of destruction and rebuilding, Tokyo established its own order to develop, along the way incorporating the food cultures of places around Japan as well as from all over the world. In October this year, Tsukiji Market, which was built in the reconstruction period after the 1923 earthquake, closed the curtain on 83 years of history. "Japan's kitchen" had overcome multiple challenges to support our rich food culture, and the traditions that have made it one-of-a-kind in the world are now being handed over to the new Toyosu Market.
We present cuisine, sake and tableware with a wish to carry Tokyo's continuously evolving food culture well into the future, inviting you to come and enjoy our reinterpretations of Tokyo food. We are looking forward to your visit.
Event Schedule
Throughout FOOD NIPPON 2018, we will be offering special lunch and dinner menus that showcase "Tokyo."
< Part 1 > May 21st 〜 June 16th[finished]
< Part 2 > November 6th 〜 December 1st
Special Lunch Course ¥3,500 / Special Dinner Course ¥8,700 (inc. TAX)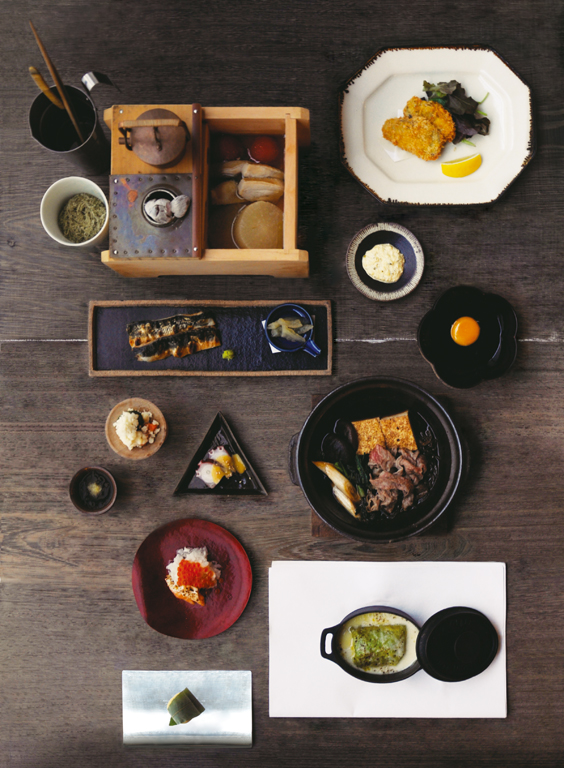 Salmon belly and salmon roe topped with grated daikon・octopus in vinegared miso・potato salad・vinegared mozuku seaweed / Cabbage roll / Deep-fried oyster / Oden stew / Chargrilled eel / Sukiyaki beef hot pot / Chestnut wagashi
Special Dinner Course ¥8,700 (Inc. TAX)
Served from November 6th 〜 December 1st
* As part of our dinner course, some items will also be available a la carte.
* Please note that ingredients may change according to availability.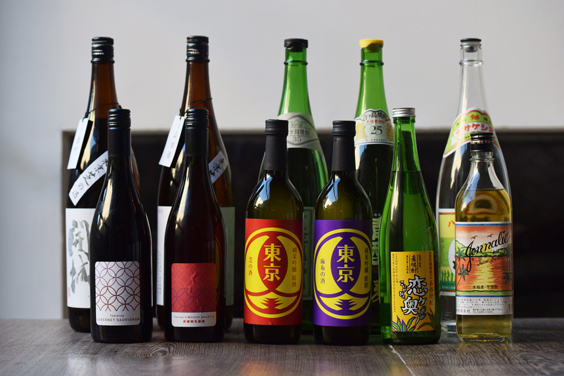 Ebisu Beer commenced brewing in 1890 and gained great popularity when the company later opened Ebisu Beer Hall in Shimbashi, the first of its kind in Japan. In the post-war reconstruction period, the beer substitute "Hoppy" was born and is still available in bars and pubs around the country. These days, shochu distilled spirit is made on Hachijojima in Tokyo's Izu Islands, and sake breweries and wineries can also be found in the metropolis. Their presence shows how since the Meiji Period Tokyo's drinking culture has changed apace with its evolving food culture. We invite you to complement your special dinner course with Tokyo's local island shochu combined with homemade plum syrup, Tokyo sake or wine, or a refreshing glass of beer or Hoppy.
¥800 per glass
Served from November 6th 〜 December 1st
Reservations and inquiries:Tel 03-5720-1300