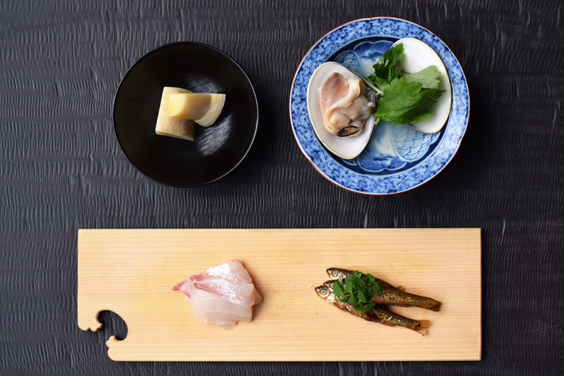 Fava beans in tofu and white miso・White asparagus / Sakura sea bream sashimi・White bamboo shoots in dashi broth・Sweet-simmered honmoroko fish・Sake-steamed hamaguri clams / Sakura shrimp fritters with thick yuba sauce / Grilled sakura salmon with butterbur miso / Chargrilled Kuroge wagyu beef / Rice / Miso soup / Pickles / Monaka sakura ice cream sandwich
¥5,500(incl. tax)
Fava beans in tofu and white miso・White asparagus / Bamboo shoot and smoked bacon salad / Tempura of ice goby fish and sansai mountain vegetables / Wagyu beef shank stew / Rice / Miso soup / Pickles / Monaka sakura ice cream sandwich
¥4,500(incl. tax)
Served from March 26th to April 6th
11:30~15:00 (L.O. 14:00)

Fava beans in tofu and white miso・White asparagus / Red gurnard sashimi・White bamboo shoots in dashi broth・Sweet-simmered honmoroko fish・Firefly squid with kinome Japanese pepper leaf dressing / Sake-steamed hamaguri clams / Tempura of ice goby fish and sansai mountain vegetables / Grilled sakura salmon with butterbur miso / Chargrilled Kuroge wagyu beef / Sakura sea bream chazuke / Monaka sakura ice cream sandwich
¥8,700(incl. tax)
Served from March 25th to April 6th
18:00~24:00(L.O. 22:30)
* There will be an additional 10% service charge.
* The menu may change depending on availability of ingredients.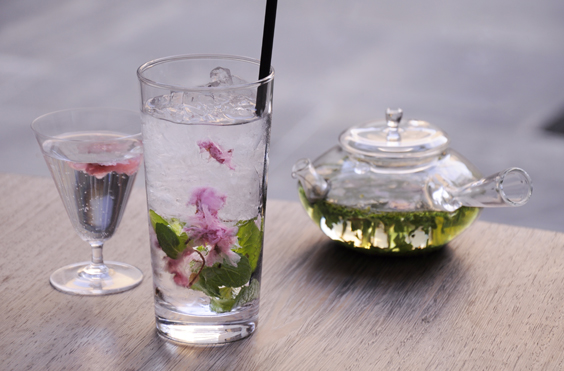 Bright and beautiful tea and sake varieties highlight our drinks menu this season: refreshing "Sakura mojito," "Sakurazake" sake gently infused with the aroma of sakura, and "Sakuracha" – a combination of cherry blossom petals and pan-fired green tea, a style loved for its roasted aroma and low astringency. We hope you enjoy these seasonal pairings with your meal.
Sakuracha ¥800(incl. tax)
Sakurazake ¥900(incl. tax)
Sakura mojito ¥1,300(incl. tax)
Served from March 26th to April 6th