We serve simple, honest Japanese food bringing out the best in the ingredients through the changing seasons.
We also provide a wide selection of sake, shochu, wine, tea and other beverages to pair perfectly with your food.
FOOD NIPPON 2019 "Osaka – Part 1" Special Dinner Course
from July 1st to August 3rd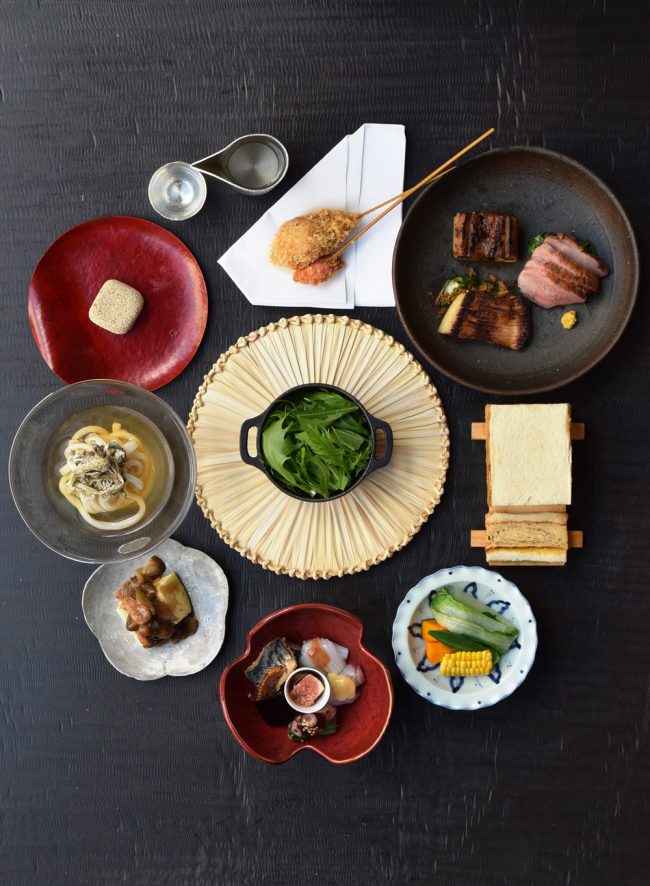 FOOD NIPPON 2019 "Osaka – Part 1" Special Dinner Course
Fresh Senshu eggplant topped with shrimp sauce / Whale meat soup with crunchy mizuna / Taste Palette of Osaka /
Hamo pike eel cutlet / Assorted Naniwa vegetables / Grilled trio: Saikyo miso butterfish, Kawachi duck, Hansuke Tofu with eel /
Chilled udon with shredded kombu / Poppyseed mochi
Appetizer


Vegetable palette *


Cold pureed corn soup


Chargrilled unagi eel and cucumber


with tosazu vinegar jelly





Giant Pacific octopus and summer vegetables


in yuzukosho dressing





Scallop and flat bean salad with soy milk dressing


First Course


Shrimp dumpling in thick dashi broth


Iwachu pork shabu-shabu


Deep-fried barracuda and eggplant


topped with charbroiled miso barracuda





Seasonal tempra *


Assorted fritters of the day *


Main Course


Today's grilled fish *


Sauteed isaki grunt fish in


thick grated daikon radish sauce





Chargrilled Aizujidori chicken


with oven-baked tomatoes





Wagyu beef shank stew in demi-glace sauce


Chargrilled wagyu beef


*Ingredients change every day depending on the availability.