Understanding local food is the key to unraveling the mysteries of local culture and the landscape that helped shape it.
FOOD NIPPON is our series of seasonal events focused on "rediscovering Japanese food culture." Since 2013, we have been gathering stories from around Japan that tell of the richness of this country, delving into various foods and customs, and learning from our ancestors' wisdom and ingenious adaptations that have been passed down through generations.
On this occasion, we are sharing our unique reinterpretations of cuisine from Osaka in two parts. From July 1st, we open with part 1 on Osaka in the middle ages, to be followed by an exploration of early modern Osaka commencing in November this year.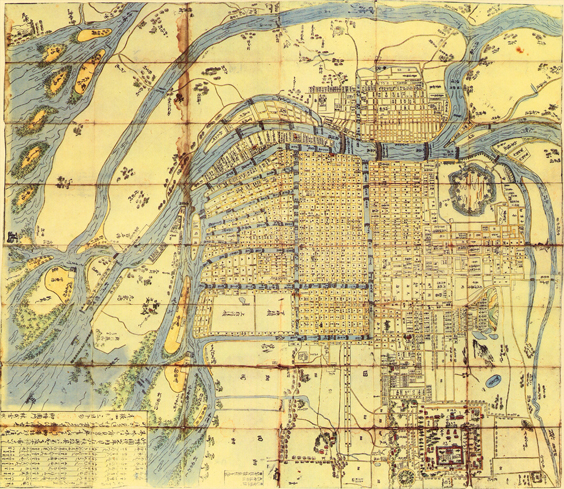 Map of Osaka (Osaka Oezu) Held by National Diet Library
Osaka's birth as a city dates back to 1496, when the Buddhist priest Rennyo constructed Ishiyama Honganji Temple on the Uemachi tableland. The temple was the site for the Ishiyama Honganji War, which was waged over ten years. In 1583, Toyotomi Hideyoshi built Osaka Castle at the former temple site and set about constructing a town at its foot by reclaiming land on sandbars to the castle's west. In order to capitalize on water transport, he dug canals in a grid pattern and developed the land. Toyotomi then forced merchants from the flourishing medieval communes of Sakai and Hiranogo to move to the newly built docklands, thereby laying the foundation for Osaka as a commercial city. In 1615, after Osaka was reduced to ashes in the summer campaign of the siege of Osaka, the city was revived thanks not only to the Tokugawa Shogunate, but also because of the enormous efforts of its citizens. Osaka would go on to achieve even greater development to become the commercial city known as "The Nation's Kitchen."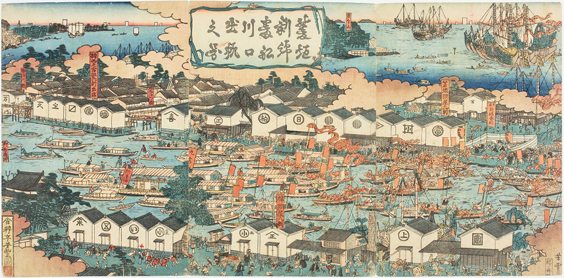 Cotton Transport Ships Racing to Edo Set Sail from the Mouth of the River (Higaki shinmen bansen kawaguchi shuppan no zu) Held by Osaka Municipal Library
With its endless network of canals and riverboats, Osaka as a city of water was a sight to behold. Western and eastern sea routes were established to connect Osaka with ports all over Japan. Large cargo vessels and lighter cargo vessels were especially active in the transport of goods between Osaka and Edo. Particularly well-located on water transport routes, rows of storehouses for each domain lined Nakanoshima. Wharfs, landings and markets were built, and one record shows Osaka thriving as the biggest distribution center: "seven-tenths of the nation's treasure is in Naniwa, and seven-tenths of Naniwa's treasure is aboard boats" (referring to Naniwa, the former name for Osaka).
Supporting Osaka's role as "The Nation's Kitchen" were three key markets: Dojima rice market, Zakoba fish market, and Tenma vegetable market. Boasting the highest volume of transactions for rice in the country, the Dojima market exhibited highly sophisticated commercial trade becoming the world's first commodity futures exchange. At Zakoba fish market, seafood was kept alive in fish tanks aboard boats coming to market and killed just prior to going to auction. The Tenma vegetable market sold not only vegetables, but also kombu kelp and other dried products carried by kitamaebune cargo vessels from Hokkaido. Having grown into the largest distribution center for kombu, Osaka became the site of a flourishing dashi culture, the standard soup stock being a combination of richly flavored kombu and bonito flakes, given even more depth with the addition of vegetables, dried sardines or fish bones. The skillful hands of Sakai's cutlers further aided the burgeoning kombu culture, as they created new tools for processing kombu into popular products like oboro kombu and tororo kombu.
| | |
| --- | --- |
| | |
Famous Views of Osaka (Naniwa meisho zue) (Left) Rice Market at Dojima (Dojima kome akinai) (Right) Fish Market at Zakoba (Zakoba uo ichi no zu) Held by National Diet Library
Senba merchants placed the greatest value on reputation, symbolized by trust and social standing, and conducted their business along guidelines for frugality, resourcefulness and calculation. Frugality involved proper planning to avoid wasteful expenditure; resourcefulness was about seizing business opportunities and being imaginative and creative; and calculation referred to economic rationale through cost-benefit analysis. This spirit is also reflected in the food of Osaka. The daily meals of merchants were modest, in keeping with the principle of frugality, but feasts of seasonal ingredients were served on seasonal festivals and auspicious occasions. The most anticipated special events for the people of Osaka each year are the summer festivals. A saying from the Edo Period goes, "it starts with Aizen, goes to Tenjin, and finishes with Sumiyoshi," referring affectionately to the three biggest festivals. Of these, the Tenjin Matsuri is the most splendid and elaborate festival, emblematic of Osaka with its magnificent boat processions.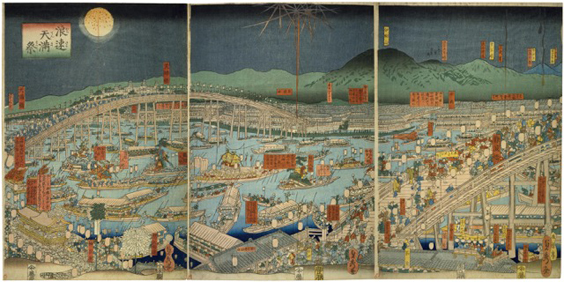 Naniwa Tenma Festival (Naniwa Tenma matsuri) Held by National Diet Library
The taste of Naniwa, present-day Osaka, was born from the pursuit of flavors to satisfy the preferences of all who gathered from around Japan. It is about using seasonal produce to the fullest, and depth of flavor achieved by bringing out the innate qualities of each ingredient through the use of dashi. Food culture in Osaka has laid the foundation for Japanese cuisine. Through cuisine, sake and tableware, we share our reinterpretations of the food culture of Osaka – the city that grew into "The Nation's Kitchen". We sincerely hope you will join us.
Event Schedule
Throughout FOOD NIPPON 2019, we will be offering special lunch and dinner menus that showcase "Osaka."
< Part 1 > July 1st ~ August 3rd
< Part 2 > November 5th~30th
Special Lunch Course ¥3,500 / Special Dinner Course ¥8,700 (inc. TAX)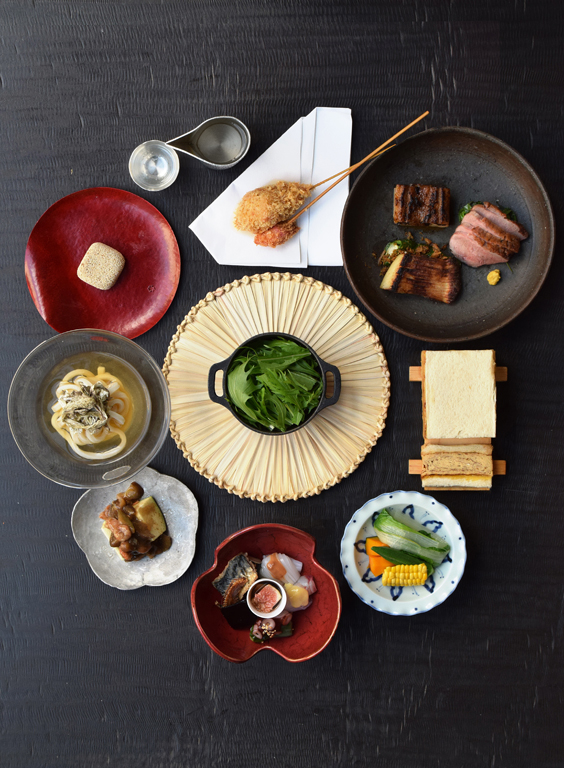 Fresh Senshu eggplant topped with shrimp sauce / Whale meat soup with crunchy mizuna / Taste Palette of Osaka / Hamo pike eel cutlet / Assorted Naniwa vegetables / Grilled trio: Saikyo miso butterfish, Kawachi duck, Hansuke Tofu with eel / Chilled udon with shredded kombu / Poppyseed mochi
Special Dinner Course ¥8,700 (inc. TAX)
Served from July 1st ~ August 3rd
* Some items from our dinner course will also be available a la carte..
* Please note that ingredients may change according to availability.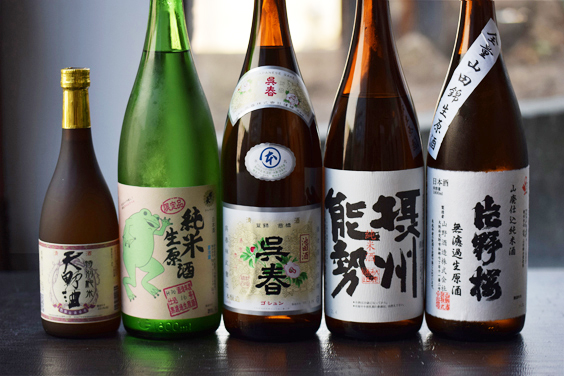 The origin of sake brewing in Osaka is said to be in Amanozake, brewed at Amanosan Kongoji Temple during the Muromachi Period (1336–1573) – a brew Toyotomi Hideyoshi is said to have been especially fond of. Other varieties that proved popular later were those from Tomita in the Sengoku Period (1467–1568) and Ikeda in the Edo Period (1603–1868). Sake brewed in Ikeda was shipped by light cargo vessels to Edo where it was prized as a popular Osaka product.
Our sake lineup to celebrate FOOD NIPPON 2019 Osaka – Part 1 delves deep into the history of sake in Osaka with Amanozake from Kawachinagano, Kuninocho from Tomita, and Goshun from Ikeda. We invite you to enjoy a drink with our special dinner course.
180ml ¥1,400
Served from July 1st ~ August 3rd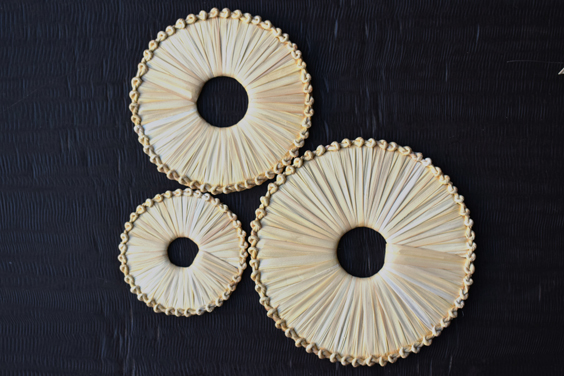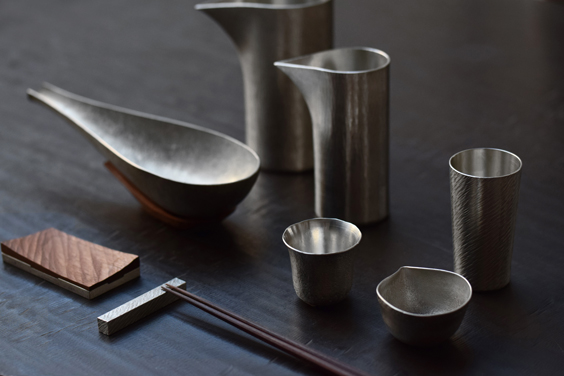 Sedge weaving (suge zaiku) is a handicraft with more than 2000 years of history in Fukae, situated to the east of the Uemachi tableland in Osaka. The craft began when people started weaving sugegasa wide-brimmed hats from sedge, an abundant wild grass that grew locally and was believed to cleanse one's body. The hats became a specialty local product during the Edo Period, considered a necessity for pilgrimages to Ise Shrine. The techniques have been passed down over many generations and sedge-weaving continues in Fukae today, with those products continuing to play an important part in rituals at Ise Shrine and in the imperial court.
In ancient times, offerings of sake were made at shrines and temples in prized tin cups. The sake servers we call tokkuri today were formerly referred to as suzu, the Japanese word for tin, and the meaning later changed to include the sake inside as well. Osaka developed into the largest producer of tin tableware during the Edo Period. With excellent heat conductivity and the ability to enhance the mellow flavor of sake, tin sake cups became popular among the general population.
On exhibit and for sale, we have tin products and items of traditional sedge-weaving craft from Osaka at the salon space in HIGASHI-YAMA Tokyo as well as at our sister shop HIGASHIYA GINZA.
Please come and visit us.
Sister Shop Information
HIGASHIYA GINZA
POLA Ginza Bldg. 2F, 1-7-7 Ginza, Chuo-ku, Tokyo
Tel : +81 (0)3 3538 3230
Hours 11am - 7pm, 7 days a week