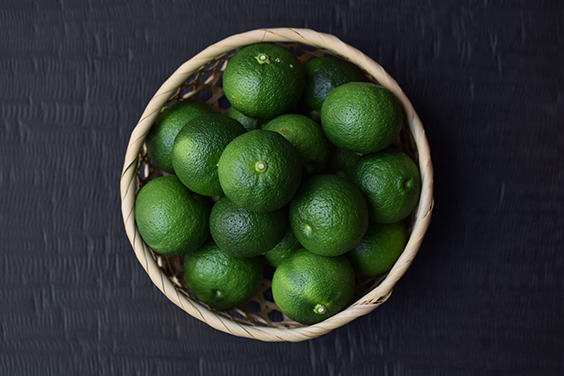 Now that the long rainy season has finally ended, the heat of summer feels all the more intense. Daidai bitter orange fruit trees have long been considered a sign of good fortune, as seen in the saying Daidai ie ga sakaeru. With a play on the word daidai, which with different characters can also mean "many generations," the saying means "if you plant a bitter orange tree, the family will prosper for many generations."
Of the countless citrus varieties found in Japan, one indispensable in Japanese food culture is yuzu. It was apparently already being cultivated as early as the Nara Period (710-794). Following sweet white flowers that blossom in early summer, the yuzu tree bears fruit that turns yellow as it ripens from autumn through to winter. But it is the unripe green fruit referred to as aoyuzu that is harvested at the height of summer. The slightly different fresh green fruit flavor is symbolic of this season.
At HIGASHI-YAMA Tokyo, we are preparing an array of dishes featuring aoyuzu and other seasonal ingredients, such as Manganji peppers, Iwagaki oysters and unagi eel.
We look forward to welcoming you soon.