Understanding local food is the key to unraveling the mysteries of local culture and the landscape that helped shape it.
FOOD NIPPON is our series of seasonal events focused on "rediscovering Japanese food culture." Since 2013, we have been gathering stories from around Japan that tell of the richness of this country, delving into various foods and customs, and learning from our ancestors' wisdom and ingenious adaptations that have been passed down through generations.
On this occasion, we are sharing our unique reinterpretations of cuisine from Osaka in two parts. Following on from part 1 on Osaka in the middle ages, starting November 5th, we explore early modern Osaka.
Osaka's food culture is the product of creative innovations and an openness to new concepts and ingredients throughout many transitions in time. Living in this age of great plenty, there is so much to be learned from Osaka's enterprising spirit and deep sense of frugality.
Throughout FOOD NIPPON 2019 "Osaka – Part 2," we will be offering special lunch and dinner menus that showcase Osaka's modern history. It is our pleasure to serve you, sharing our reinterpretations of the food culture of Osaka. We sincerely hope you will join us.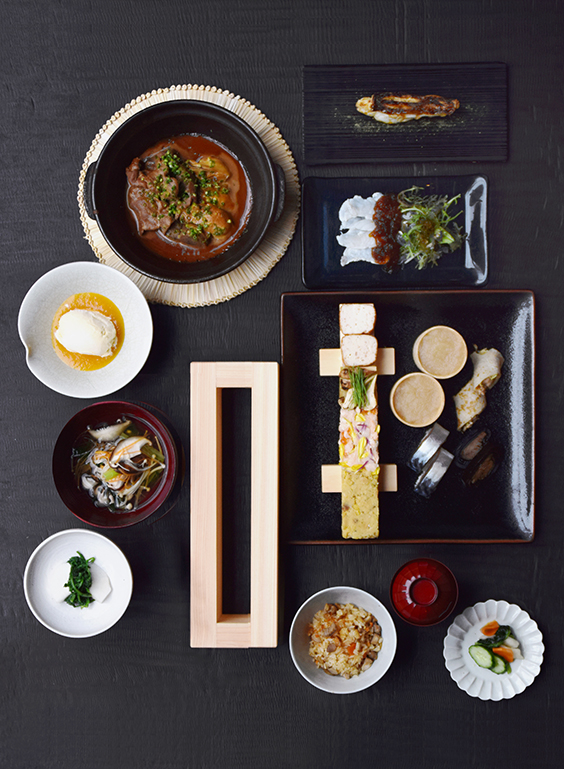 Fugu puffer fish / Senbajiru mackerel dashi soup / Taste Palette of Osaka / Charbroiled wild sea bream with sansho pepper sauce / Chrysanthemum and pear in dashi and soy sauce / Osaka Ume Beef and oyster doteyaki stew / Mixed steamed rice and sake lees soup / Dessert
Special Dinner Course ¥9,500 (inc. TAX)
Served from November 5th ~ 30th
* Some items from our dinner course will also be available a la carte..
* Please note that ingredients may change according to availability.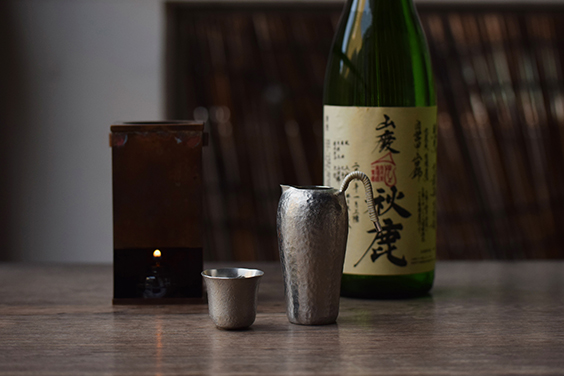 Nestled in Nose amid the Hokusetsu Mountains in the northernmost part of Osaka Prefecture is the brewery Akishika Shuzo, established in 1886. The brewery controls every part of the sake production process, starting with growing its own rice focusing on umami content. The deep cold of this region plays a major role in the resulting sake flavor – clear and clean umami and acid in a well-structured sake. Particularly satisfying when served warm; simply heavenly infused with the flavor of grilled fugu puffer fish fin. We invite you to enjoy this wonderful brew in a tin sake cup made especially for FOOD NIPPON.
180ml ¥1,600
Served from November 5th ~ 30th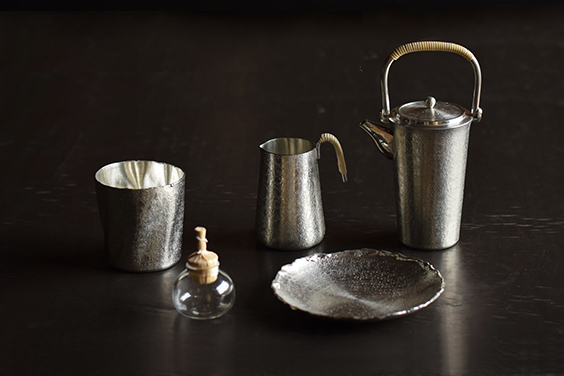 Sedge weaving (suge zaiku), with more than 2000 years of history in Fukae, and suzu tin tableware, which saw great development in Osaka during the Edo Period, are traditional Osaka crafts. Items of these crafts are on display and for sale at our salon space in HIGASHI-YAMA Tokyo as well as at our sister shop HIGASHIYA GINZA. Please come and visit us.
Sister Shop Information
HIGASHIYA GINZA
POLA Ginza Bldg. 2F, 1-7-7 Ginza, Chuo-ku, Tokyo
Tel : +81 (0)3 3538 3230
Hours 11am - 7pm, 7 days a week
Click here for the FOOD NIPPON 2019 "Osaka – Part 2" website