Understanding local food is the key to unraveling the mysteries of local culture and the landscape that helped shape it.
FOOD NIPPON is our series of seasonal events focused on "rediscovering Japanese food culture". Since 2013, we have been gathering stories from around Japan that tell of the richness of this country, delving in to foods and customs, and learning from our ancestors' wisdom and ingenious adaptations, which have been passed down through generations.
The stage for this seventh edition of FOOD NIPPON is Dohoku, Hokkaido. We have focused on the bounties of water, wood and soil that this rich, but harsh natural environment in northern Hokkaido has to offer.
This is Daisetsuzan National Park, known to the Ainu indigenous people as the "Playground of the Gods" or Kamui Mintara in their native language. Thawing snow creates plentiful underground water, which nurtures this vast land and is the thread that sustains all the life found here, from countless mountain plant varieties to rare species of animals that have lived here since the Ice Age. We visited Higashikawa Town where every household uses groundwater, so blessed are they with the plentiful spring water that flows from the foothills of Daisetsuzan.
We are showcasing food ingredients and sake that the bountiful water supply has produced, as well as woodcraft from Asahikawa, home to Japan's largest hardwood log auction. You will also find pottery made from yellow sand clay, which is thought to have blown over from the Asian continent and accumulated here 200 million years ago.
We invite you to come and enjoy the rich food culture offered by the wise people who call this incredible region home.
We are looking forward to your visit.
Event Schedule
< Spring > Takamatsu, Kagawa 3rd ~ 15th March [finished]
< Summer > Shodoshima Island etc., Kagawa 2nd ~ 14th June [finished]
< Autumn > Dohoku, Hokkaido 1st ~ 13th September
< Winter > Donan, Hokkaido 1st ~ 13th December
Lunch course ¥4,000 / Dinner course ¥8,200
(Inc. TAX, Exc. drinks)
* Our regular menu is also available.
* As part of our dinner course, some items will also be available a la carte.
* Selected pieces of tableware for purchase will be on exhibit in the salon space during the event.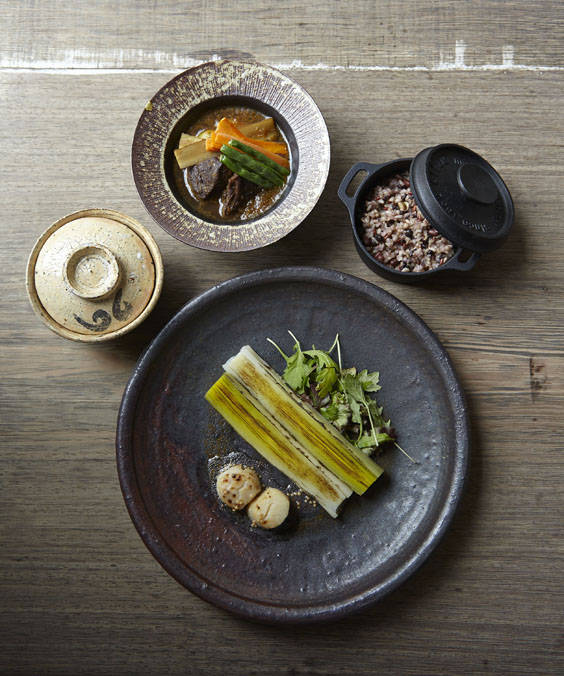 Taste palette of Hokkaido / Puréed sweet corn soup / Grilled leek and scallop salad with egoma dressing / Fried chicken/Etanbetsu soba noodle / Beef shank and vegetable curry stew with multi-grain rice / Yubari melon gelato
FOOD NIPPON Special Dinner Course ¥8,200 (per person)
Served from 1st to 13th September.
Reservations and inquiries:TEL 03-5720-1300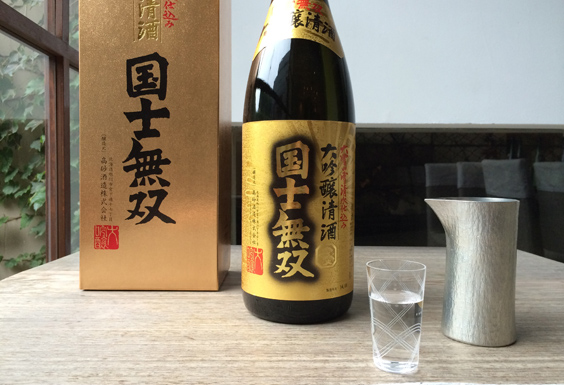 Asahikawa is the home of Takasago Shuzo. Situated in the Kamikawa Basin, this area is blessed by an endless water supply from the Daisetsuzan mountains and is well-known as a leading grain-producing region in Japan.
Daisetsuzan's harsh cold climate and thawed snow spring water result in bold, dry, refined sakes, coming under the brewery's signature brand 'Kokushimuso'. The Daiginjo develops very deep, rich flavors through the long and careful brewing process conducted at low temperatures, and Tokubetsu Junmai, the quintessential Kokushimuso sake, has a mellow flavor profile.
During our autumn event, we are recommending six of the best brands of sake, wine and whiskey from three selected breweries. We invite you to taste these varieties that we feel pair perfectly with the foods from the great northern land.
Glass ¥600〜
180ml¥1,000〜
Served from 1st to 13th September.