This email is sent to guests who have dined with us at HIGASHI-YAMA Tokyo and our affiliated restaurants, and also those who have registered from our website.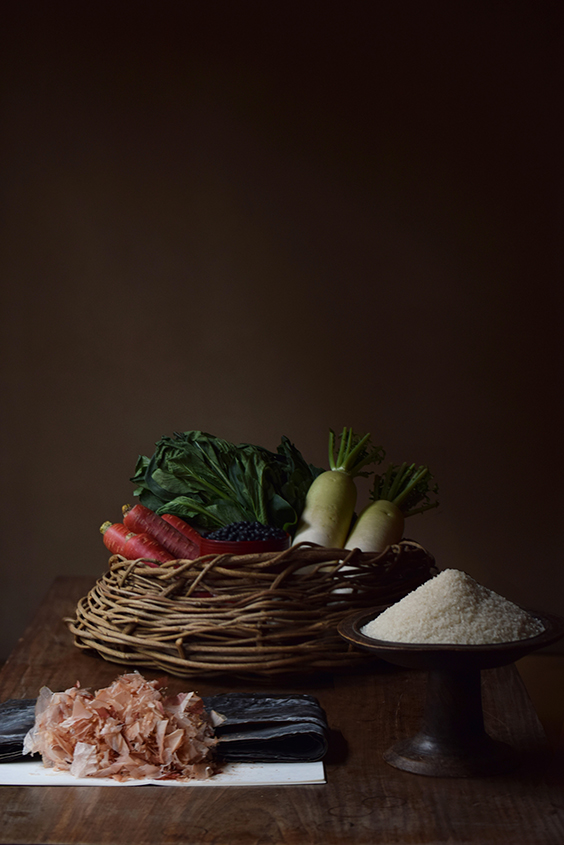 Happy New Year!
We hope that you were able to ring in a happy and healthy new year.
The first in the twelve-year Chinese zodiac is the Year of the Mouse. Written with the character for 'child,' mice are likened to the plant growth process as life about to burst forth from a seed. Familiar creatures since ancient times, mice bear many young making them an auspicious symbol for prosperity of descendants. And in folk belief, the mouse is a servant to Daikokusama, the god of bountiful harvests.
This year again, we devote ourselves across the four seasons to sharing the delights of food with
all of you.
We open for service today and look forward to welcoming you.

Chef Nobuyuki Takamura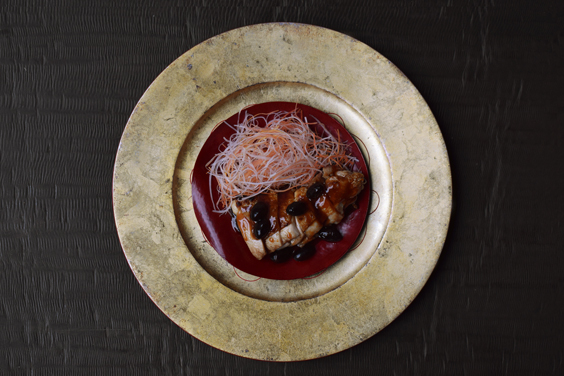 This dish tops charbroiled chicken with a sauce of simmered black beans and pickled julienned vegetables. Black beans are an integral component of Japanese Osechi new year's cuisine, serving as a talisman for a healthy and faithful life with a play on the word for beans, mame, also meaning diligent. Their black color is also said to have the power to ward off disaster and misfortune. The red and white hues of julienned carrot and daikon serve as a symbol of joy, given their resemblance to mizuhiki, the decorative Japanese cord made from twisted paper seen at celebrations and on gifts. We invite you to partake in this special HIGASHI-YAMA Tokyo dish to celebrate the new year.
Charbroiled chicken with black bean sauce ¥2,700
Served from January 7th to February 1st

To ring in the New Year with prayers for
health and happiness, we wish to share a
celebratory drink with you all by breaking
open a sake cask. Starting on January 7th,
masuzake will be served from a cask in small
wooden boxes, but as quantities are limited,
please join us sooner rather than later to
partake in this tasty tradition.
Chinese Zodiac Animal Orb "Mouse"

Each year at HIGASHI-YAMA Tokyo, we offer Chinese Zodiac Animal Orbs – objects created by S[es] that are inspired by the animals of the Chinese zodiac. Made from brass, the look and feel of the symbolic mouse design conveys the passing of time. We invite you to welcome this "Mouse" orb into your home as a paperweight or decorative object of good fortune.
Also available for purchase through the S[es] website.

Please click here for details.
Planning a New Year party or other group event?

HIGASHI-YAMA Tokyo can accommodate a wide variety of
parties such as New Year celebrations as well as farewell and welcome gatherings. For further information or to make reservations, please contact us here:

Tel 03-5720-1300 / Booking Staff: Matsumoto
Closed Days: January – February 2020

○ = Closed

*Lunch service is unavailable on Mondays as well as on any day that follows a closed day.
If you would prefer not to receive any emails from HIGASHI-YAMA Tokyo, please click here.

HIGASHI-YAMA Tokyo

1-21-25 Higashiyama, Meguro-ku, Tokyo 153-0043 Tel +81 3 5720 1300
Lunch 11:30am – 3:00pm (Kitchen closes at 2:00pm) Closed on Sundays & Mondays
Dinner 6:00pm – 12:00am (Kitchen closes at 10:30pm) Closed on Sundays

Lounge

Tel +81 3 5720 1350
Day 12:30pm – 4:00pm (Kitchen closes at 3:30pm) Closed on Sundays & Mondays
Night 6:00pm – 2:00am Closed on Sundays