We serve simple, honest Japanese food bringing out the best in the ingredients through the changing seasons.
We also provide a wide selection of sake, shochu, wine, tea and other beverages to pair perfectly with your food.
Seasonal Menu September 2019
from September 2nd to 28th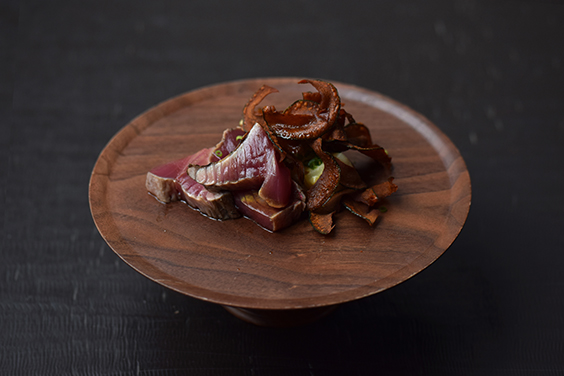 Straw-roasted bonito
Appetizer


Vegetable palette *


Scallop and roasted eggplant puree soup


Snow crab and vegetables with hebesu citrus


Straw-roasted bonito


Sea bream, pear and chrysanthemum salad
with kabosu citrus dressing


First Course


Duck and mushroom dumpling in thick
matsutake sauce


Charred mackerel pike with liver soy sauce


Creamy salmon and spinach gratin


Seasonal tempra *


Assorted fritters of the day *


Main Course


Today's grilled fish *


Simmered kinmedai fish with aromatic vegetables


Kanmuri chicken oven-baked on a hoba leaf
with buckwheat miso


Wagyu beef shank stew in demi-glace sauce


Chargrilled wagyu beef


*Ingredients change every day depending on the availability.