Understanding local food is the key to unraveling the mysteries of local culture and the landscape that helped shape it.
FOOD NIPPON is our series of seasonal events focused on "rediscovering Japanese food culture." Since 2013, we have been gathering stories from around Japan that tell of the richness of this country, delving into various foods and customs by learning from our ancestors' wisdom and ingenious adaptations that have been passed down through generations.
For the third year of FOOD NIPPON, we are featuring Oita Prefecture, a region that has been referred to as "the land of plenty" since ancient times.
Oita, with natural features and a climate rich in diversity, has sustained the development of various blessings of the sea and of the mountains, as well as local cuisine and traditional crafts that have been passed down through generations in several regions. To share with you the charm of Oita, we will introduce our very own reinterpretations of the prefecture's cuisine, tailored to each season this year.
Starting Monday, March 16th, our spring event will feature the theme "Hakko" (fermentation).
We first visited Kojiya Honten. Established more than 300 years ago, Kojiya Honten cultivates koji starter, an absolutely necessary ingredient in the production of fundamental fermented foods of Japanese cuisine such as soy sauce, miso, and sake. Nine generations down, the current head of the house Myoho Asari has pioneered the promotion of using koji not only as an ingredient in fermentation but also as a seasoning for dishes. She has created many original recipes and currently travels around the world to popularize the many uses of koji.
In Usuki City, we encountered the production site of a type of compost called "Usuki Yume Taihi." Ohana Honpo, a nearby farm, uses this compost to fertilize their soil and grow vegetables without the use of any pesticides. The pure and natural taste of these organically grown vegetables is truly delightful.
At Fujii Jozo distillery located in the southern part of Oita, we learned about the production of mugi shochu (barley-distilled shochu). They use a special traditional, handmade method to produce koji and wooden barrels to create the fermenting agent, moromi. The resulting shochu carries an aroma rich in accents of barley and its refreshing aftertaste complements the dishes of Oita perfectly.
In addition to the various food cultures of Oita that are based on the process of fermentation, we will introduce "Seki Aji" (horse mackerel) and "Seki Saba" (mackerel) that have been fished from the Hoyo Strait and delivered under strict quality control.
Since Oita boasts the largest production of madake (Japanese timber bamboo) in the country, we visited several bamboo craft ateliers and local Onta-yaki pottery sites that have been passing down secret techniques and traditions from one generation to the next since the early 1700s, when pottery was founded in the villages of Oita. Working closely with and learning from local craftsmen of the area, we created original tableware to be used throughout the event as a way to accentuate the cuisine.
We chose to feature Oita so that we could share the charm and rich culture that we encountered during our visits with various local farmers and craftsmen.
We hope you will come to taste the food of Oita.
We are looking forward to your visit.
Event Schedule
Throughout the FOOD NIPPON 2015 edition, we will be offering special lunch and dinner menus that feature various ingredients and types of sake from Oita, which you can enjoy together with tableware that has been made originally for FOOD NIPPON.
< Spring > March 16th ~ 28th
< Summer > June 1st ~ 13th
< Autumn > August 31st ~ September 12th
< Winter > November 30th ~ December 12th
Lunch course ¥4,000 / Dinner course ¥8,200
(Incl. tax; Excl. drinks)
*Japanese Restaurant Zarai Oita in Ginza and French Restaurant Anis in Hatsudai will be featuring their own special menus based on our FOOD NIPPON concept this year.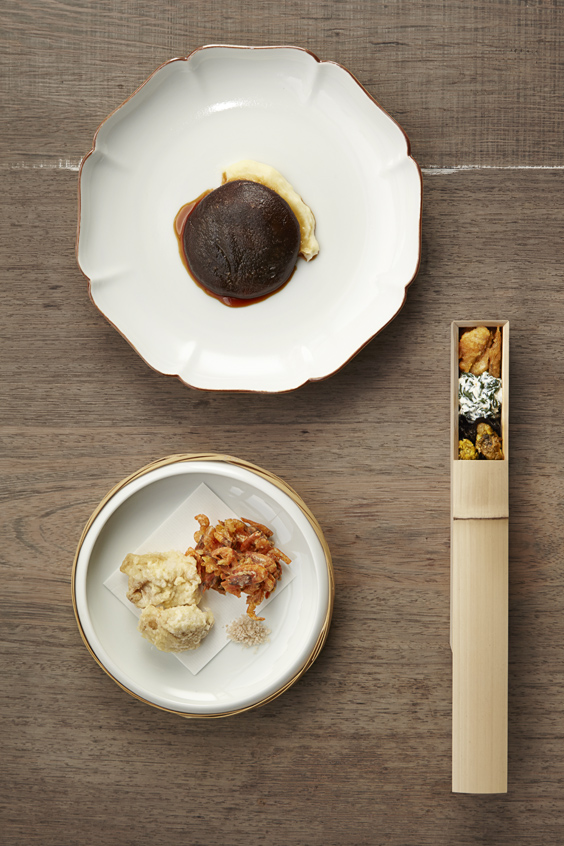 Taste palette of Oita / Seki Aji (horse mackerel) and Seki Saba (mackerel) sashimi / Watercress and cooked vegetable salad with rice koji dressing / Kamagari black croaker soup / Chicken tempura and small prawn tempura / Shiitake mushroom steak / Purple steamed rice with beans and seaweed sake lees soup / Steamed amazake manju sweet bun
FOOD NIPPON 2015 Spring Special Dinner Course
¥8,200 (per person)
Served from March 16th to 28th
* Photographed above are a few dishes from the Special Dinner Course.  
* Our regular menu is also available.
* As part of our dinner course, some items will also be available a la carte.
Reservations and inquiries:Tel 03-5720-1300
Click to view other menus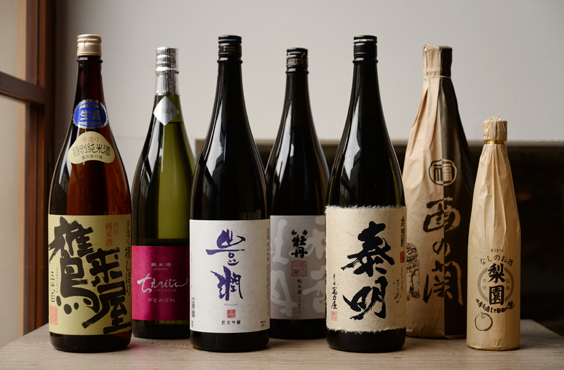 During this event, we will serve sake and shochu from selected breweries including Fujii Jozo distillery's "Taimei" barley-distilled shochu, five carefully chosen brands of sake, and a Japanese pear liqueur. We hope you will enjoy these special drinks alongside our Oita dishes.
Glass ¥600〜
180ml¥1,000〜
Served from March 16th to 28th