Understanding local food is the key to unraveling the mysteries of local culture and the landscape that helped shape it.
FOOD NIPPON is our series of seasonal events focused on "rediscovering Japanese food culture." Since 2013, we have been gathering stories from around Japan that tell of the richness of this country, delving into various foods and customs by learning from our ancestors' wisdom and ingenious adaptations that have been passed down through generations.
For the third year of FOOD NIPPON, we have been featuring Oita Prefecture.
In order to share with you the wonderful charm of Oita, we will introduce our very own reinterpretations of the food of Oita for each of the four seasons this year.
Following the last FOOD NIPPON 2015 Spring event which featured "fermentation," we will continue to explore the food culture of the area through a theme of "folklore" for the FOOD NIPPON 2015 Summer event starting Monday, June 1st.
We met Mrs. Sayuko Kanamaru, chairwoman of a local food workshop called "Tougarashi," who opened her workshop to pass on her lessons for cooking tougarashi, which is the Japanese word for chili pepper. She teaches that the green leaves of the chili pepper should be prepared as tsukudani (cooked in soy sauce) or pickled in miso and that when the chili pepper turns green, it should be used to make yuzukosho (a spicy garnish of yuzu citrus and chili peppers). As for the peppers when they are red and have ripened, she teaches that they should be used for pickled leaf mustard during the spring, preserved in salted rice-bran paste during the summer, and pickled with Chinese cabbage in the winter. Planting chili peppers requires a great deal of diligent housekeeping throughout the entire year, and it is said that a house which grows chili peppers well will flourish. These teachings have been passed on through generations, from mother to child, as wisdom of life.
We also encountered various local dishes of the region, one of which is called kachiebi chirashizushi. The dish uses rice that has been steamed with dried small red prawns called kachiebi, which locals consider to be familiar lucky charms, and then mixed with vinegar and topped with seasonal vegetables, sweetened beans, and shiitake mushrooms that have been cooked in soy sauce and sugar. This colorful dish is typically enjoyed on special occasions. The scene of people preparing kachiebi used to be a typical picture of summer in Usa City of Nagasu in Oita. In its heyday, there used to be more than twenty factories they called "prawn houses" which produced the kachiebi, but most have closed down, leaving only three to remain. It would be unfortunate for such an iconic dish to dissipate, and so in this way, kachiebi chirashizushi has given us the opportunity to think about the richness and deliciousness of Japan that should continue to be passed on to the next generations.
| | |
| --- | --- |
| | |
Since Oita boasts the largest production of madake (Japanese timber bamboo) in the country, we visited several bamboo craft ateliers and local Onta-yaki potters who have been passing down secret techniques and traditions from one generation to the next since the early 1700s, when pottery was founded in the villages of Oita. Working closely with and learning from local craftsmen of the area, we have prepared FOOD NIPPON original tableware to be used throughout the event as a way to accentuate the cuisine.
We chose to feature Oita so that we could pass on the rich culture we encountered during our visits with various local farmers and craftsmen. We hope you will come to enjoy the food of Oita.
We are looking forward to your visit.
Event Schedule
Throughout the FOOD NIPPON 2015 edition, we will be offering special lunch and dinner menus that feature various ingredients and types of sake from Oita, which you can enjoy together with tableware that has been made originally for FOOD NIPPON.
< Spring > March 16th ~ 28th[finished]
< Summer > June 1st ~ 13th
< Autumn > August 31st ~ September 12th
< Winter > November 30th ~ December 12th
Lunch course ¥4,000 / Dinner course ¥8,200
(Incl. tax; Excl. drinks)
*Japanese Restaurant Zarai Oita in Ginza and French Restaurant Anis in Hatsudai will be featuring their own special menus based on our FOOD NIPPON concept this year.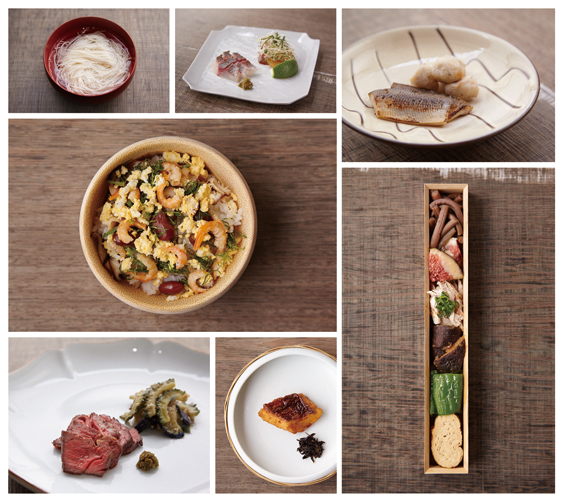 Sun-dried Hita-ayu sweetfish with baby taro cooked in salted entrails of sweetfish/Taste palette of Oita/Seared grunt fish and soy and sesame marinated grunt fish/Deep-fried Japanese seabass with chili pepper leaves cooked in soy sauce/Nagasu somen thin noodles in sparkling mineral water from Oita/Chargrilled Bungo-komeshiagegyu beef with sautéed summer vegetables/Dried small prawns, beans, and shiitake mushrooms over chirashizushi rice/Agar jelly confectionery with amanatsu orange from Usuki
FOOD NIPPON 2015 Summer Special Dinner Course
¥8,200 (per person)
Served from June 1st to 13th
* Our regular menu is also available.
* As part of our dinner course, some items will also be available a la carte.
Reservations and inquiries:Tel 03-5720-1300
Click to view other menus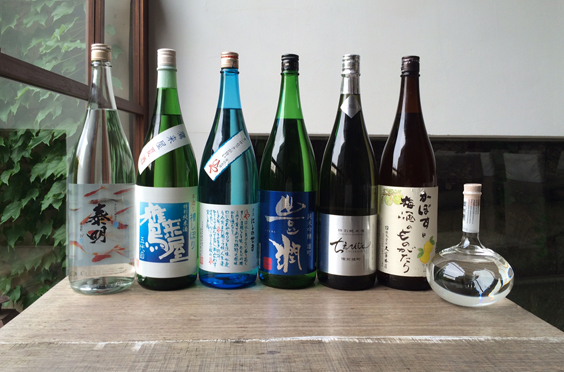 We will serve sake and shochu from selected breweries including Hamashima Shuzo's "Takakiya Godaime Natsuzake Tokubetsu Junmai," four carefully chosen brands of sake, two brands of shochu and Harmony of kabosu citrus and plum wine. We hope you will enjoy these special drinks alongside our Oita dishes.
Glass ¥600〜
180ml¥1,000〜
Served from March 16th to 28th