Understanding local food is the key to unraveling the mysteries of local culture and the landscape that helped shape it.
FOOD NIPPON is our series of seasonal events focused on "rediscovering Japanese food culture." Since 2013, we have been gathering stories from around Japan that tell of the richness of this country, delving into various foods and customs by learning from our ancestors' wisdom and ingenious adaptations that have been passed down through generations.
For the third year of FOOD NIPPON, we have been featuring Oita Prefecture.
In order to share with you the wonderful charm of Oita, we will introduce our very own reinterpretations of the food of Oita for each of the four seasons this year.
For the FOOD NIPPON 2015 Autumn event we delve into the region's food culture through the theme of "sustainability," focusing in particular on sustainable agriculture and fishing of the Kunisaki Peninsula Usa region that has been acknowledged as part of the Globally Important Agricultural Heritage Systems by the Food and Agriculture Organization of the United Nations (FAO).
Our first visit was to Usa Shrine, built in the 8th century and located at the base of the Kunisaki Peninsula. As the head shrine of thousands of shrines across Japan that are dedicated to Hachiman, the god of archery and war, Usa Shrine had a big influence on the Kunisaki Peninsula, shaping the local mountain worship religion and forming Kyushu's largest manor of priests and monks. As the center presence of Rokugomanzan culture, it is also known as the first place to adopt the syncretic ideal of fusing Shinto and Buddhist philosophies.
A particularly well-preserved site can be found at the "Tashibunosho Agricultural Landscape," one of the most important manors for Usa Shrine, which has left a landscape of beautiful rice terraces from its rice crop production since the 8th century.
At the bases of the mountains surrounding Tashibunosho are the Sawtooth Oak forests that support the region's industry of using logwood for shiitake mushroom cultivation.
The challenging volcanic soil of this region made it difficult to attain water, requiring clever devising in order to be able to secure water. As a solution, predecessors planted Sawtooth Oak and created a reservoir. Before long, shiitake mushrooms began cultivating on the logwood of the Sawtooth Oak, and after several hundred years of maintaining these forests, a fountainhead was finally secured and a diverse ecosystem was raised. These Sawtooth Oak forests have become the cornerstone of the Globally Important Agricultural Heritage Systems, forming the region's beautiful landscape and agricultural community.
Over in Himejima, located in the northern part off the coast of Kunisaki Peninsula, we encountered sustainable fishing methods. In order to avoid overfishing, they established long ago their own fishing regulations. These voluntary resource management efforts of Himejima are one example of the direction in which Japan's fishing industries ought to be heading.
Since Oita boasts the largest production of madake (Japanese timber bamboo) in the country, we visited several bamboo craft ateliers and local Onta-yaki potters who have been passing down secret techniques and traditions from one generation to the next since the early 1700s, when pottery was founded in the villages of Oita. Working closely with and learning from local craftsmen of the area, we have prepared FOOD NIPPON original tableware to be used throughout the event as a way to accentuate the cuisine.
We chose to feature Oita so that we could pass on the charm and rich culture that we encountered during our visits with various local farmers and craftsmen. We hope you will come to enjoy the food of Oita.
We are looking forward to your visit.
Event Schedule
Throughout the FOOD NIPPON 2015 edition, we will be offering special lunch and dinner menus that feature various ingredients and types of sake from Oita, which you can enjoy together with tableware that has been made originally for FOOD NIPPON.
< Spring > March 16th ~ 28th[finished]
< Summer > June 1st ~ 13th[finished]
< Autumn > August 31st ~ September 12th
< Winter > November 30th ~ December 12th
Lunch course ¥4,000 / Dinner course ¥8,200
(Incl. tax; Excl. drinks)
Japanese Restaurant Zarai Oita in Ginza and French Restaurant Anis in Hatsudai will be featuring their own special menus based on our FOOD NIPPON concept this year.
Zarai Oita
July 15th 〜 August 10th[finished]
Anis
October 6th 〜 18th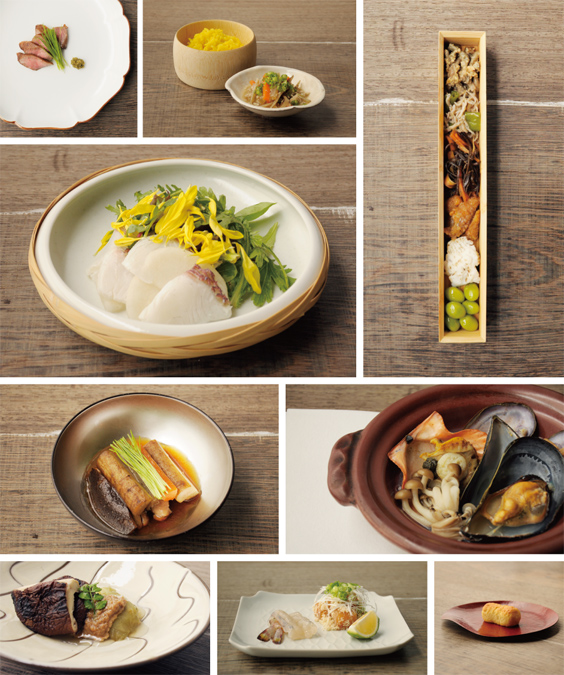 Grilled shiitake mushroom and eggplant with sesame paste/Sashimi with okara soy pulp and today's sashimi/Sea bream, pear and chrysanthemum salad/Kanmuri chicken and root vegetable stew/Taste palette of Oita/Karasugai mussels steamed with hoba leaf/Chargrilled Bungo beef/Steamed yellow rice and cooked fish and vegetables/"Xavier" signature Oita confectionery
FOOD NIPPON 2015 Autumn Special Dinner Course 
¥8,200 (per person)
Served from August 31st to September 12th
* Our regular menu is also available.
* As part of our dinner course, some items will also be available a la carte.
Reservations and inquiries:Tel 03-5720-1300
Click to view other menus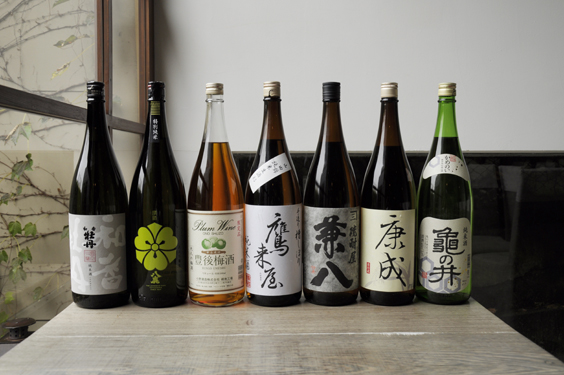 We will serve sake and shochu from selected breweries including Hamashima Shuzo's "Takakiya Junmai Namazake", five carefully chosen brands of sake, mugi shochu and Bungo plum wine. We hope you will enjoy these special drinks alongside our Oita dishes.
Glass ¥600〜
180ml¥1,000〜
Served from August 31st to September 12th